You are currently browsing the tag archive for the 'cookbook reviews' tag.
Hooray for summer cookbooks!
 After a year's budget-induced hiatus, NPR is back with the summer roundup!  10 new and juicy, sun-kissed, wave-splashed cookbooks for the well-intentioned and the self-indulgent alike.
Click here for the official NPR summer cookbooks roundup.
Here's a quick and dirty rundown in case you just want to check out the list:[Please note that I'm taking a leaf out of Stephen Colbert's book this month to show solidarity with those publishers struggling with Amazon's monopolistic recent moves: This summer roundup list features Powell's affiliate links instead of Amazon links. Powell's has excellent prices, fantastic customer service, and ethical business practices, so shop with confidence.]
Top 10 Summer Cookbooks of 2014
And here's the shortlist:
Because Kale Is Only the Beginning
Brassicas, by Laura Russell.
Memoir/Cookbook for Lovers of Whimsical Food Writing
Slices of Life, by Leah Eskin
Slightly Less Guilty Pleasures
Honey and Oats, by Jennifer Katzinger (Sasquatch)
Best Barbecue Book by a Former Baseball Star
The Nolan Ryan Beef & Barbecue Cookbook, by Nolan Ryan (Little, Brown)
Because Backyard Chickens Don't Take a Vacation
Egg,  by Michael Ruhlman (Little, Brown)
Most Empowering Buttercream Book Ever
Sensational Buttercream Decorating, by Carey Madden (Robert Rose)
Eye-popping Tropical Savories from Our Island Neighbors
Caribbean Potluck: Modern Recipes from Our Family Kitchen, by Michelle Rousseau and Suzanne Rousseau
Thrilled to report that the NPR Summer Cookbook roundup is back! I'm deep in testing right now. Keep an eye on this space for the announcement and link, first week of June.
Mostly, my work for NPR can be found in the mouthwatering weekly Kitchen Window series.  But yesterday, after collaborating with the terrific NPR books team, I released a story for another NPR series I love, " Three Books".  It's not my first; I did one some years ago on "stone soup" books – books on cooking with bare-bones ingredients during lean times.
This one is kind of the opposite.  They're "let them eat cake"  books that are so frivolous that I've always felt actually making something out of them is strictly optional – cakes like Colette Peters' magnificent  trompe l'oeil stack of cushions, pictured at right.
It's not that lean times have deserted us – far from it.  But even in lean times, you still have to feed your imagination, too, don't you?
Click here to read Feast for the Eyes: 3 Cookbooks Just for Looking, from NPR's 3 Books series.
Well, the list has gone live! After about 4 weeks of reading, browsing, asking the 7 questions, and recipe-testing (ask my family), my top 10 choices for summer cookbooks are now public.  Read the story on the NPR website.
Following the top 10 is my own shortlist, which includes all the outstanding cookbooks that didn't make it into the NPR article–lots of terrific choices for newlyweds, new college graduates, parents, and, well, everybody.
The NPR Summer 2012  Top 10:
The Shortlist:
Outstanding Book for Slow Foodistas
A Girl and Her Pig: Recipes and Stories, by April Bloomfield with J.J. Goode
Outstanding Seasonal-Eating Cookbook 
The Farm: Rustic Recipes for a Year of Incredible Food, by Ian Knauer
Best Kitchen Gardener's Book:
Grow Cook Eat: A Food Lover's Guide to Vegetable Gardening, Including 50 Recipes, Plus Harvesting and Storage Tips, by Willi Galloway
Best Reboot-Your-Salad Book:
Salad for Dinner: Complete Meals for All Seasons, by Jeanne Kelley
Exquisite Gluten-Free Book
La Tartine Gourmande: Recipes for an Inspired Life, by Béatrice Peltre
Ingredient-Focused Book from a Hunky Newcomer
Hero Food: How Cooking with Delicious Things Can Make Us Feel Better, by Seamus Mullen
How-to-Cookbook with an Emphasis on Lots of Recipes
How to Cook Everything the Basics: All You Need to Make Great Food, by Mark Bittman
How-to-Cook Book with an Emphasis on Helpful Process Photographs
What to Cook and How to Cook It: Fresh and Easy, by Jane Hornby
Food of Many Nations Primer
Cindy's Supper Club: Meals from Around the World to Share with Family and Friends, by Cindy Pawlcyn
Buzz-Free Liquid Refreshment Book
Sip and Savor: Drinks for Party and Porch, by James T. Farmer III

Mouthwatering Ice Cream Book
Sweet Cream and Sugar Cones: 90 Recipes for Making Your Own Ice Cream and Frozen Treats from Bi-Rite Creamery, by Kris Hoogehyde, Anne Walker, and Dabney Gough
Multiethnic Comfort Food from a Talented Newcomer
Comfort and Spice, by Niamh Shields
Fun Trend Cookbook for Bedside Reading
The Truck Food Cookbook: 150 Recipes and Ramblings from America's Best Restaurants on Wheels, by John T. Edge
Giftworthy-Design DIY Book
A Country Cook's Kitchen: Simple Recipes for Making Breads, Cheese, Jams, Preserves, Cured Meats, and More, by Alison Walker
Make-Your-Own-Snacks Book:
The Homemade Pantry: 101 Foods You can stop Buying and Start Making, by Alana Chernila
French Country Fantasy Book:
Nature: Simple, Healthy, and Good, by Alain Ducasse
Seasonal Cookbook Best Suited for an Art Gallery
The Perfect Ingredient: 5 Fantastic Ways to Cook Apples, Beets, Pork, Scallops, and More, by Bryn Williams
Even-in-the-Summer Baking Book
CakeLove in the Morning: Recipes for Muffins, Scones, Panckaes, Waffles, Biscuits, Frittatas, and Other Breakfast Treats, by Warren Brown
Attractive Glossary for a Dwindling Food Supply
Fish: Recipes from the Sea, by C.J. Jackson and Barton Seaver
Perfect Gift in Lieu of a Bouquet
Edible Flowers: 25 Recipes and an A-Z Pictorial Directory of Culinary Flora, by Kathy Brown
Good New Idea for a Regional Cookbook
The New Middle Eastern Vegetarian: Modern Recipes from Veggiestan, by Sally Butcher
Just-For-Fun, Not-a-Book Cocktail Guide
Mrs. Lilien's Cocktail Swatchbook

And don't forget, summer is the season for narrative! now that you have time to read, take a moment to savor tales of food forays, quests, and misadventures.  You can find them in my own book, A Spoonful of Promises: Recipes and Stories from a Well-Tempered Table.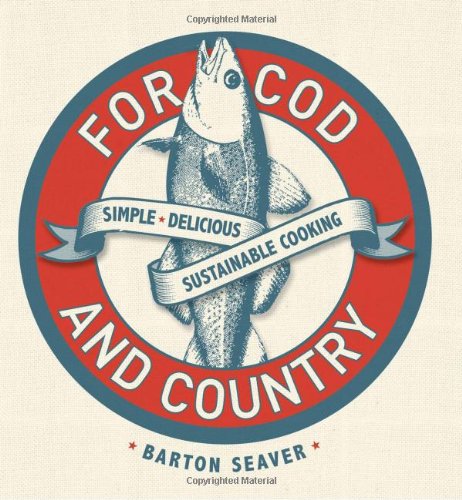 Happy New Year, cookbook lovers!  I'm still coming up to speed, very slowly, after a week of festivities and sleeping-off-of-festivities.
I tested this book quite a while ago, in the fall.  But as is so often the case, the review got pushed down the queue because other cookbooks of more immediate interest kept arriving, and then there was the holiday roundup season, etc. etc.
There isn't a seafood cookbook published today that doesn't have the word "sustainable" right up front…I guess the message is that if you're going to make a withdrawal from the world's dwindling supply of fish, you ought to do it as  responsibly–and deliciously–as you can.
Although there are many cookbooks and many cookbook authors I admire, not all of them fit equally easily with my family-of-four dinner routine.  Melissa Clark's books are the exception.  Reviewing Cook This Now was a boon for the household–a week of exceptional-tasting but easy-to-cook weeknight dinners I'd be making again and again, if I weren't forever moving on to the next cookbook…
In a word, swoon-worthy.
These are the books I live for, the ones where every recipe opens up a whole new horizon of deliciousness.  I also love having an answer when people ask me "What's your favorite cookbook this year?"
Review of Claudia Roden's The Food of Spain in today's Boston Globe.
It doesn't happen all that often, but every once in a while a review comes out brutally honest.  This book has some of the most inspired summer recipes I've seen, but–sad to say–they are not as well executed as they could have been.
Review of The Kitchen Garden Cookbook in Wednesday's Boston Globe.
Cookbook review hot from the oven in this morning's Boston Globe–Emily Luchetti's Fearless Baker.
If you don't know Luchetti–pastry chef, author, and born teacher–this book is a great way to make her acquaintance.  Every one of the recipes I tried worked without a hitch, which is saying a lot for any cookbook, but especially a baking one.
In this week's Boston Globe, I have a review of Marie Simmons' Fresh and Fast Vegetarian.  I was happy to have the chance to test the book more thoroughly after it caught my eye at the beginning of the summer.  If nothing else, the book has introduced tamari-glazed walnuts into my repertoire–they've become a personal favorite.